What is an API
API Stands for Application Programming Interface, which allows us to connect two or more applications to each other. Whenever you use an application like Whatsapp, Instagram, or any other App on your phone, your phone is using an API to communicate with the server to show you data.
When you use any app on your mobile, the app sends the data to the server. Then the server process the data and send it back to the app. App then processes the data and display you in a readable way. This is what an API does.
Following are the simple steps to enable the API
2 – Click on My project
Click on my project (it might be different for you, for us its showing my project because we have already created a project with this name)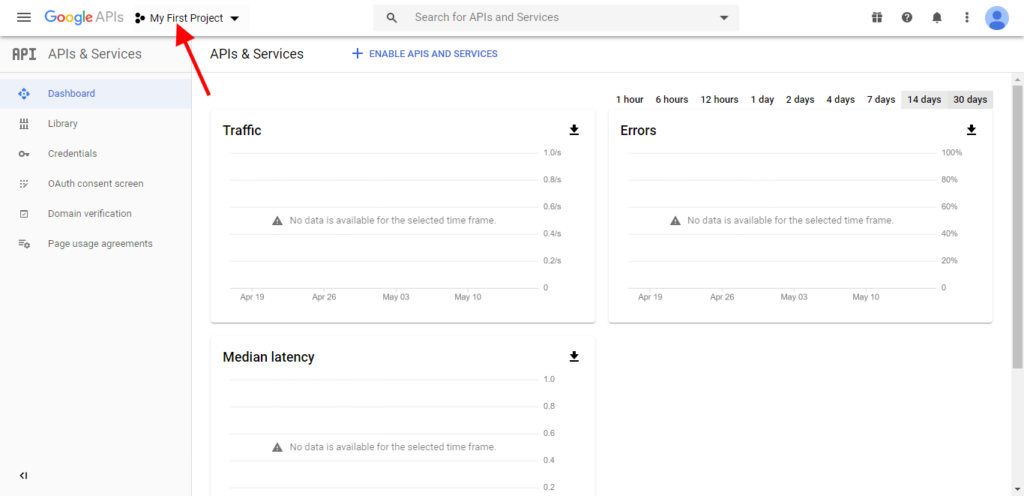 3 – Click on New project
Click on new project, fill the details and select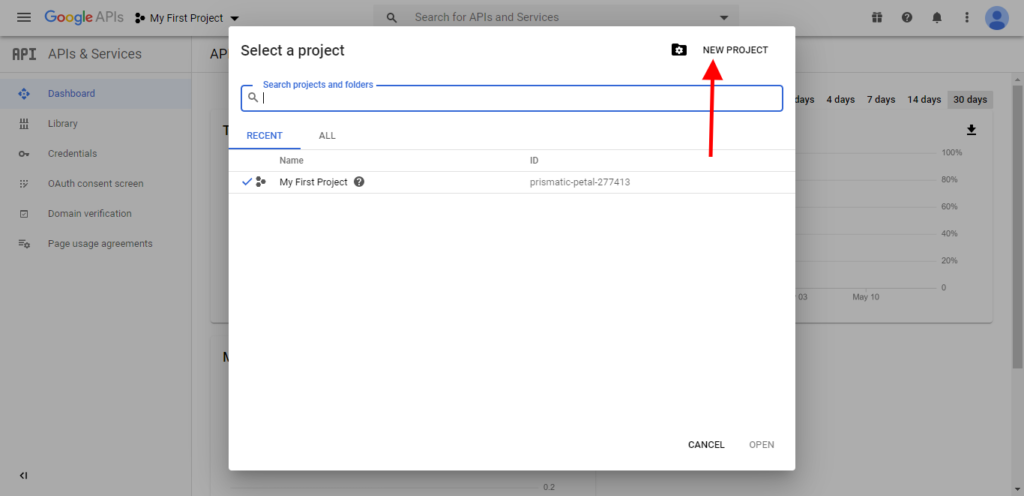 4 – Enable API and Services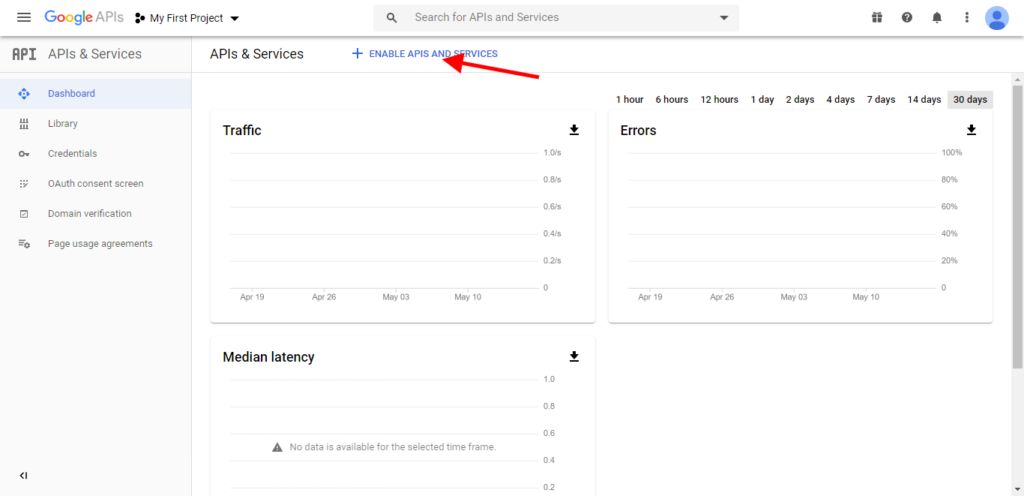 5 – Enable Maps Javascript API and Places API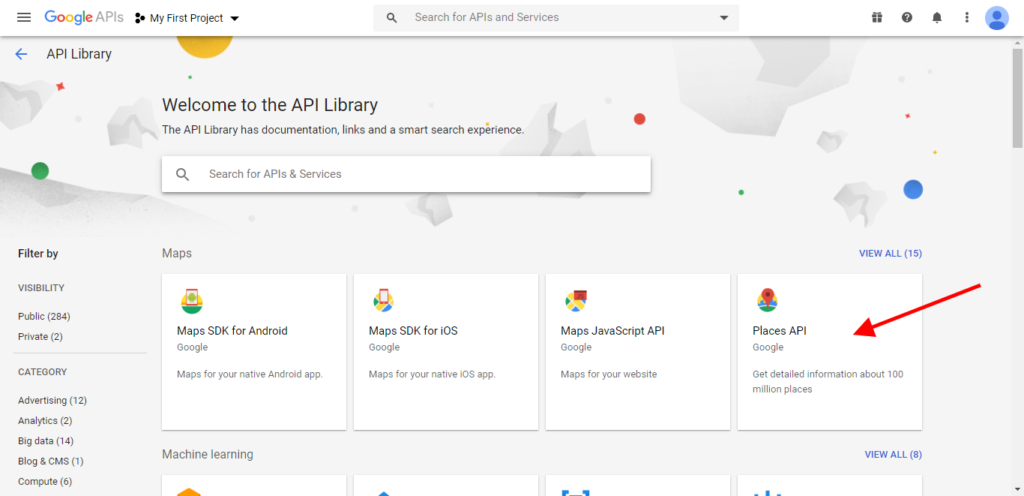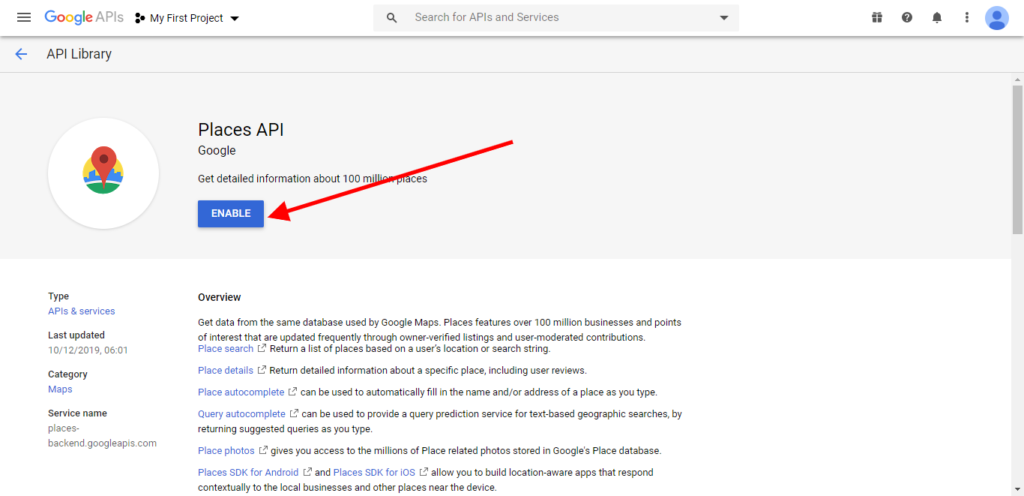 6 – Create the Credentials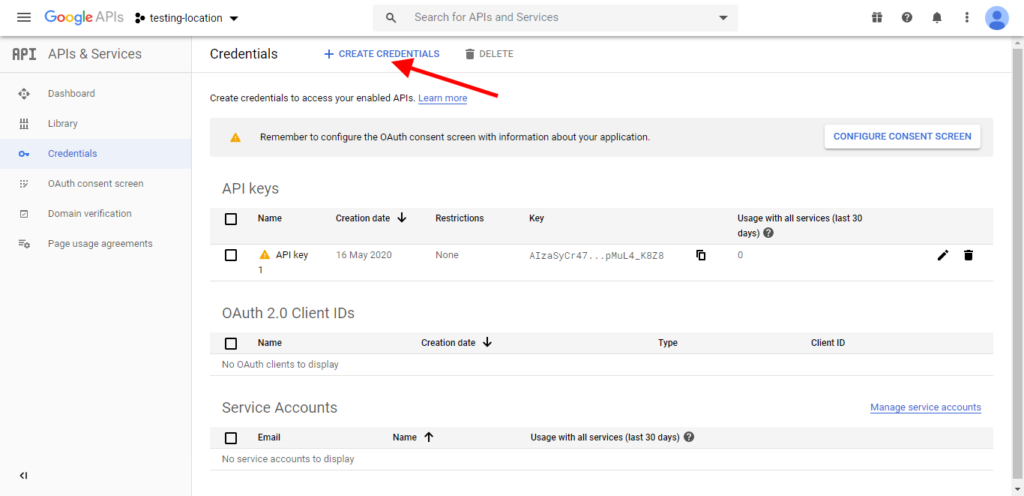 7 – Restrict the key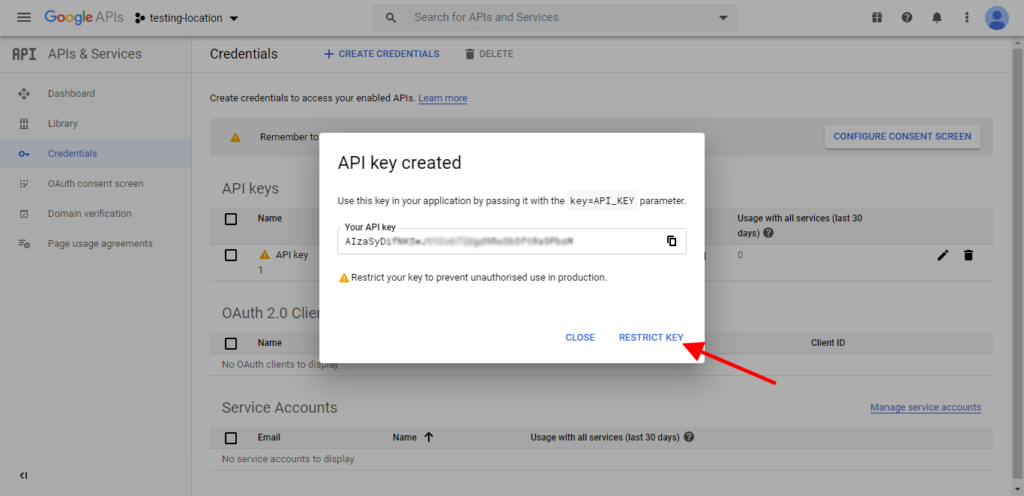 8 – Key Restriction options
There are multiple key restriction options for API to use on different platforms.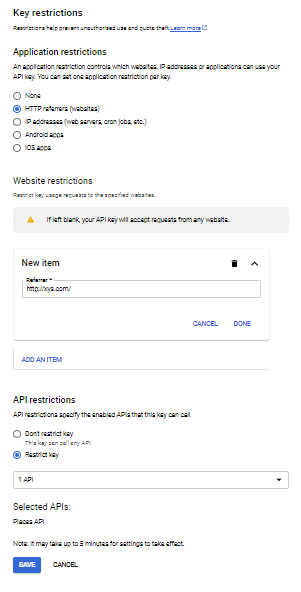 Google API is not free, you have to pay the monthly bill on a usage basis. For billing, you need to attach your credit card to google account only then the API will work. And if still there is any problem, just inspect the element after clicking the right button in the browser, you will see each and every detail about the error in console.
9 – Enable Billing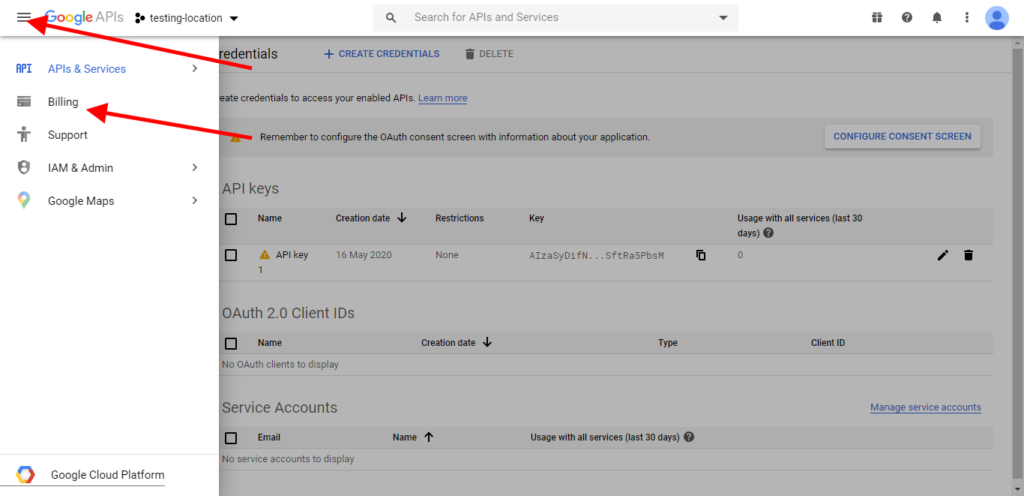 <!DOCTYPE html>
<html>
  <head>
    <meta name="viewport" content="initial-scale=1.0, user-scalable=no">
    <meta charset="utf-8">
    <title>Places Search Box</title>
    <style>
      /* Always set the map height explicitly to define the size of the div
       * element that contains the map. */
      #map {
        height: 100%;
      }
      /* Optional: Makes the sample page fill the window. */
      html, body {
        height: 100%;
        margin: 0;
        padding: 0;
      }
      #description {
        font-family: Roboto;
        font-size: 15px;
        font-weight: 300;
      }

      #infowindow-content .title {
        font-weight: bold;
      }

      #infowindow-content {
        display: none;
      }

      #map #infowindow-content {
        display: inline;
      }

      .pac-card {
        margin: 10px 10px 0 0;
        border-radius: 2px 0 0 2px;
        box-sizing: border-box;
        -moz-box-sizing: border-box;
        outline: none;
        box-shadow: 0 2px 6px rgba(0, 0, 0, 0.3);
        background-color: #fff;
        font-family: Roboto;
      }

      #pac-container {
        padding-bottom: 12px;
        margin-right: 12px;
      }

      .pac-controls {
        display: inline-block;
        padding: 5px 11px;
      }

      .pac-controls label {
        font-family: Roboto;
        font-size: 13px;
        font-weight: 300;
      }

      #pac-input {
        background-color: #fff;
        font-family: Roboto;
        font-size: 15px;
        font-weight: 300;
        margin-left: 12px;
        padding: 0 11px 0 13px;
        text-overflow: ellipsis;
        width: 400px;
      }

      #pac-input:focus {
        border-color: #4d90fe;
      }

      #title {
        color: #fff;
        background-color: #4d90fe;
        font-size: 25px;
        font-weight: 500;
        padding: 6px 12px;
      }
      #target {
        width: 345px;
      }
    </style>
  </head>
  <body>
    <input id="pac-input" class="controls" type="text" placeholder="Search Box">
    <div id="map"></div>
    <script>
      // This example adds a search box to a map, using the Google Place Autocomplete
      // feature. People can enter geographical searches. The search box will return a
      // pick list containing a mix of places and predicted search terms.

      // This example requires the Places library. Include the libraries=places
      // parameter when you first load the API. For example:
      // <script src="https://maps.googleapis.com/maps/api/js?key=YOUR_API_KEY&libraries=places">

      function initAutocomplete() {
        var map = new google.maps.Map(document.getElementById('map'), {
          center: {lat: -33.8688, lng: 151.2195},
          zoom: 13,
          mapTypeId: 'roadmap'
        });

        // Create the search box and link it to the UI element.
        var input = document.getElementById('pac-input');
        var searchBox = new google.maps.places.SearchBox(input);
        map.controls[google.maps.ControlPosition.TOP_LEFT].push(input);

        // Bias the SearchBox results towards current map's viewport.
        map.addListener('bounds_changed', function() {
          searchBox.setBounds(map.getBounds());
        });

        var markers = [];
        // Listen for the event fired when the user selects a prediction and retrieve
        // more details for that place.
        searchBox.addListener('places_changed', function() {
          var places = searchBox.getPlaces();

          if (places.length == 0) {
            return;
          }

          // Clear out the old markers.
          markers.forEach(function(marker) {
            marker.setMap(null);
          });
          markers = [];

          // For each place, get the icon, name and location.
          var bounds = new google.maps.LatLngBounds();
          places.forEach(function(place) {
            if (!place.geometry) {
              console.log("Returned place contains no geometry");
              return;
            }
            var icon = {
              url: place.icon,
              size: new google.maps.Size(71, 71),
              origin: new google.maps.Point(0, 0),
              anchor: new google.maps.Point(17, 34),
              scaledSize: new google.maps.Size(25, 25)
            };

            // Create a marker for each place.
            markers.push(new google.maps.Marker({
              map: map,
              icon: icon,
              title: place.name,
              position: place.geometry.location
            }));

            if (place.geometry.viewport) {
              // Only geocodes have viewport.
              bounds.union(place.geometry.viewport);
            } else {
              bounds.extend(place.geometry.location);
            }
          });
          map.fitBounds(bounds);
        });
      }

    </script>
    <script src="https://maps.googleapis.com/maps/api/js?key=YOUR_API_KEY&libraries=places&callback=initAutocomplete" async defer></script>
  </body>
</html>